Credit: Wikipedia (Painted Ladies)
San Francisco is world-renowned for its Victorian-style dwellings known as The Painted Ladies. However, the Golden City touts a variety of diverse home styles that deserve some serious recognition. Many of the originally designed abodes are still standing, making properties in San Francisco timeless. Over time, modern features arose among historical houses, giving way to a unique blend of architectural designs as well.
Throughout San Francisco today, you will see colorfully painted homes with dainty accents along with chic, lavish properties along the Bay waters. From Queen Anne to Italianate homes and Marina to Mission Revival abodes, here are eight of the most popular architecture styles in sunny San Francisco, California.
Rustic yet beautiful shingle-style homes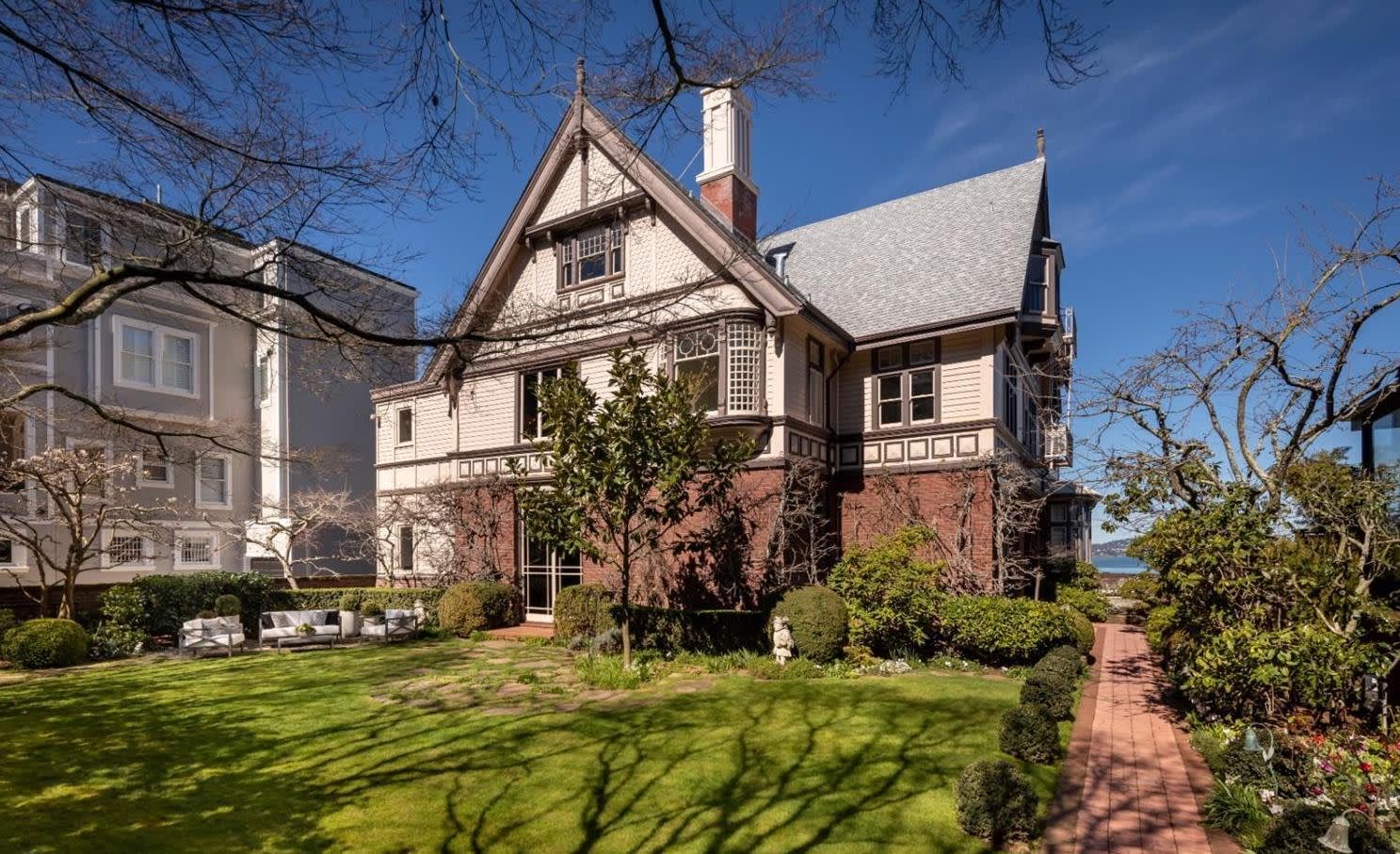 Credit: Matt Woebcke Real Estate
Shingle-style homes are rustic yet beautiful. Cited as the first American-made abode, the construction of shingle homes grew steadily from 1880 to 1910. Their distinguishing architectural feature is of course the shingles that cover the faces or roof of the home. In San Francisco — and throughout all of California — redwood shingles are most commonly found.
Other distinguishing characteristics of shingle properties include wooden faces, gambrel roofs, large verandas, and asymmetrical facades. Shingle-style abodes are appealing for their perfect blend of classic and contemporary. These San Francisco homes are built to capture the stunning California views and allow dwellers to remain close to nature with their welcoming windows.
Shingle-style homes are a staple in San Francisco that are sure to stick around.
Iconic and retro mid-century modern homes
When thinking of mid-century modern architecture in San Francisco, the name "Joseph Eichler" often comes to mind. This famous developer is known for its iconic, eye-catching, and well-made mid-century modern homes. Beginning in the 1950s, over 11,000 Eichler homes were constructed in San Francisco, a perfect option for the discerning middle-class homebuyer.
These homes, often referred to as "Eichlers," are known for their distinctive features that incorporate nature and modern conveniences. Glass walls let in plenty of sunshine, and atriums and courtyards allow the resident to get some fresh air without venturing far from home. These homes also include features like sloping wood-plank ceilings, radiant heating, and a sprawling floor plan laid out across a single story.
Offering plenty of retro charm, mid-century modern single-family homes are still just as popular today as they once were.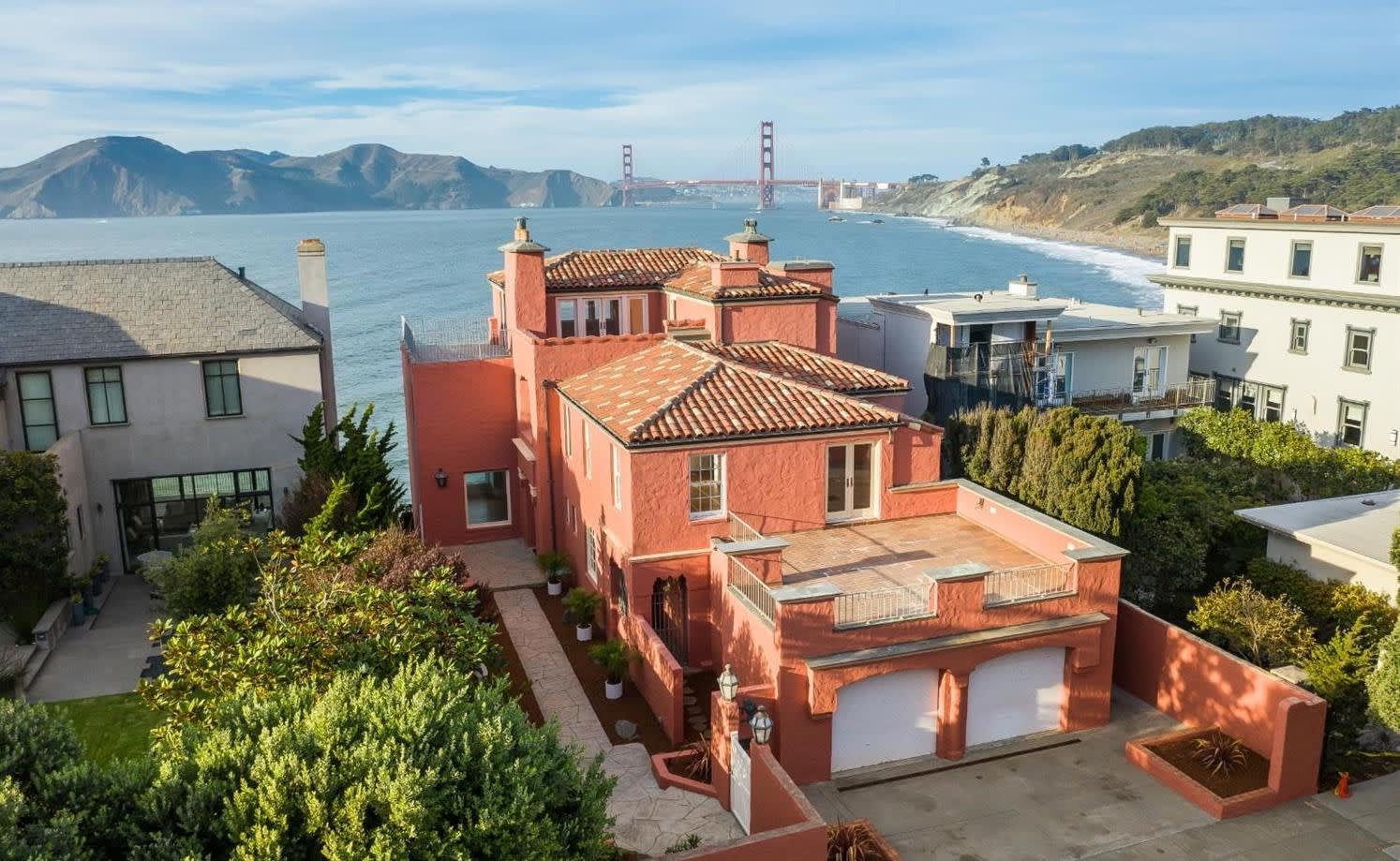 Serene Mediterranean-influence marina abodes
Credit: Matt Woebcke Real Estate
In San Francisco's Marina District you will find an abundance of serene Marina abodes. Also known as Mediterranean-style homes, these seaside dwellings first popped up in the 20th century. Marina abodes have been gaining popularity in recent years, especially for those who want to be situated on the Bay waters.
Marina homes are usually one or two stories high and are intended to accommodate a small family. Roofs are flat and grand windows span the entire front width of the house. Wide doors, atriums, terraces, and patios are the norm since they provide easy access to the warm weather and lovely waterfront. Deep, vibrant hues are often painted on the outside of Marina homes as well.
Due to their focus on the home as a relaxing sanctuary or retreat, Marina abodes have become a trend in the buzzing San Francisco real estate scene.
Enchanting and romantic Queen Anne homes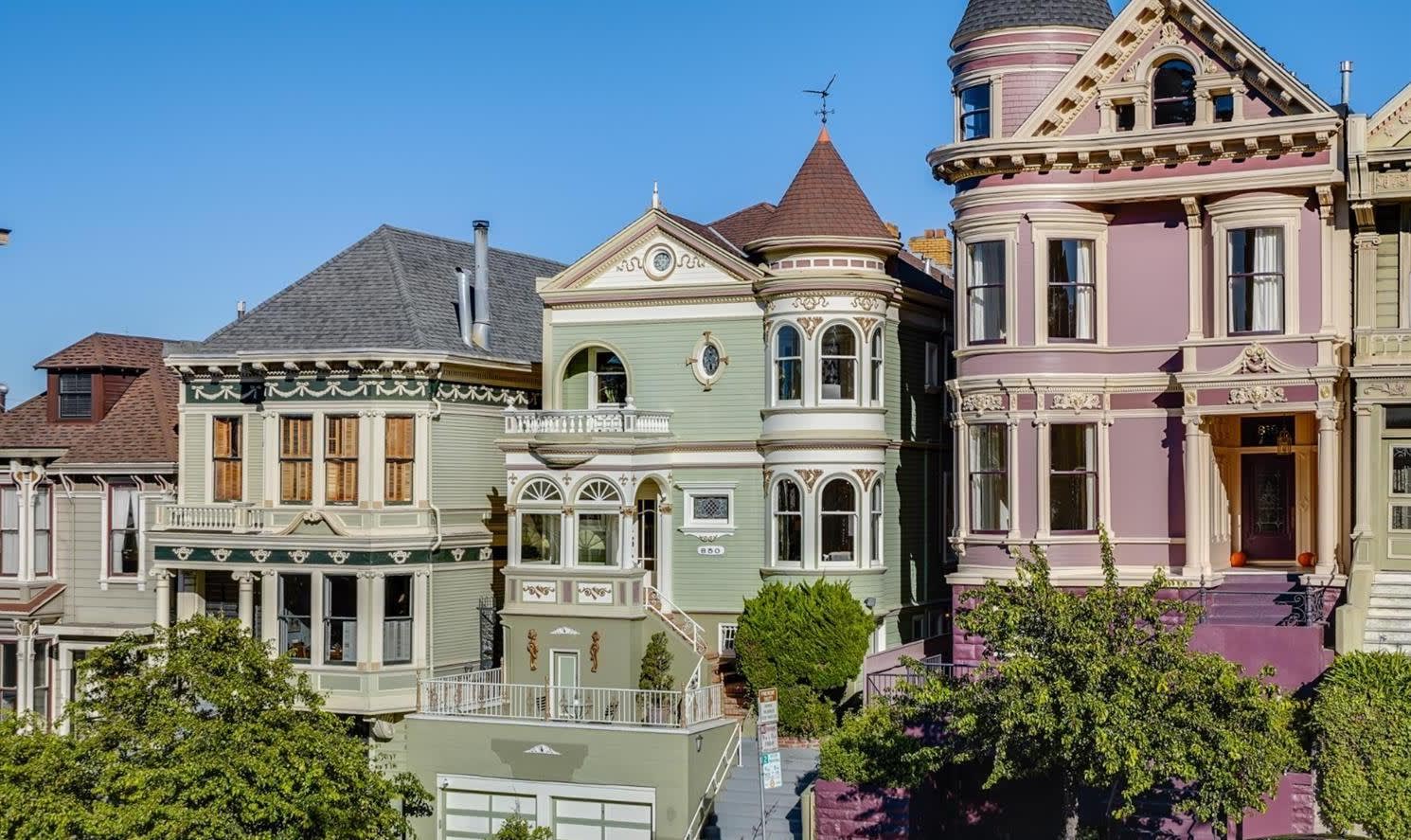 Credit: Matt Woebcke Real Estate
Queen Anne homes are enchanting and full of fancy details. Although many believe that the Queen herself gave rise to this style of abode, these homes weren't designed until the 19th century. These romantic architectural properties are still as regal and desired today as they were when they were originally constructed.
These "gingerbread" properties with their dainty trims and bright colors can be seen throughout San Francisco. Queen Anne homes can also be distinguished by their bay windows adorned with pretty embellishments, sweeping wrap-around porches supported by columns, and steep roofs with complex designs.
These gorgeous, fairytale Queen Anne homes are indeed fit for San Francisco royalty.
Intricate and ornamental Victorian properties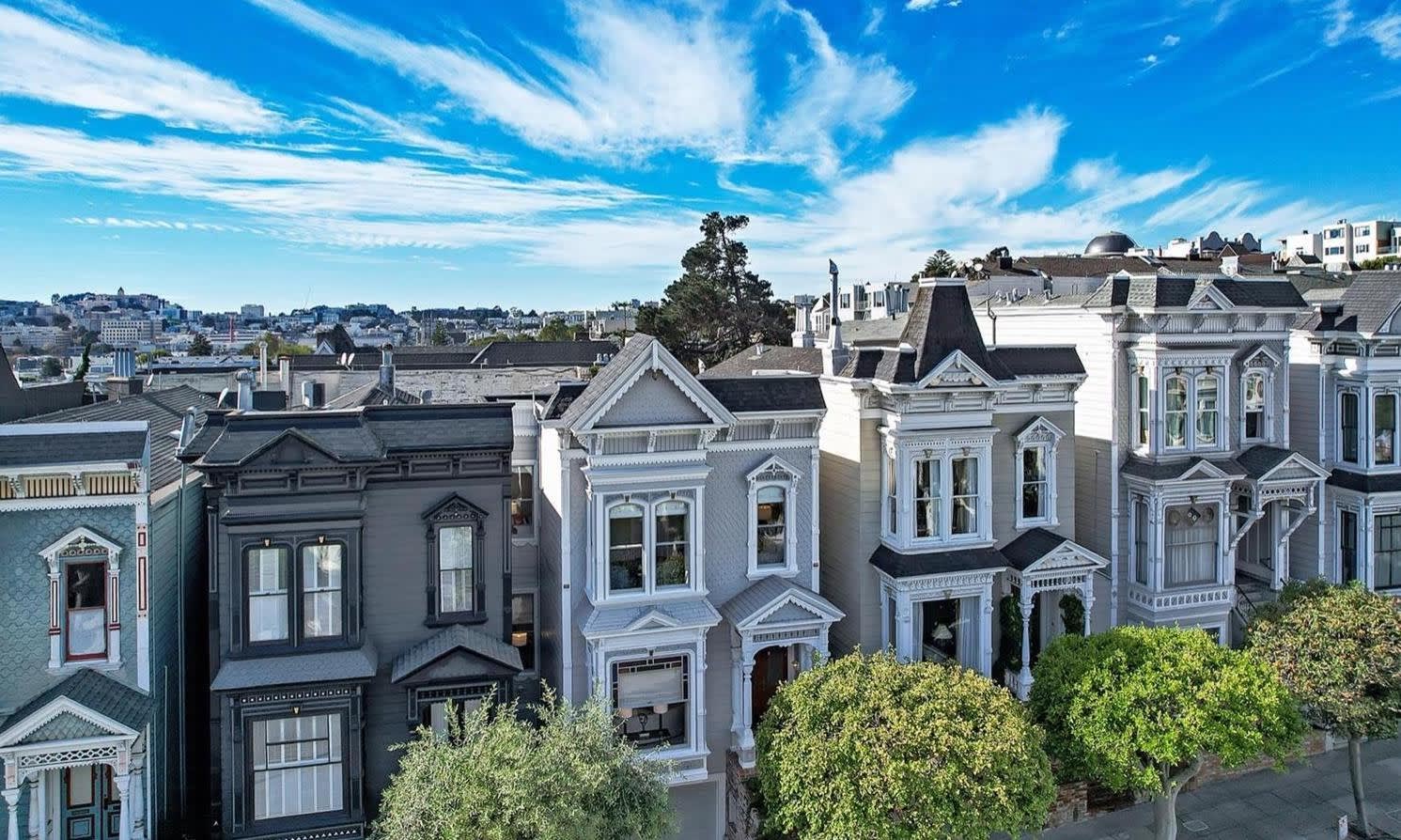 Credit: Matt Woebcke Real Estate
By far the most well-known architectural style in San Francisco is the Victorian home. Around 50,000 Victorian-style properties were built around the city between 1849 and 1915, getting their design inspiration from both the Romanesque and Medieval Gothic architectural movements. These historic abodes are very common in San Francisco today, with the most iconic being The Painted Ladies.
The exteriors of some Victorian properties are almost dollhouse-like, boasting intricate hues and ornamental accents. Others give off a glamorous haunted house vibe with their dark colors and mix of different materials and designs. One thing all of these dwellings have in common, however, is that they are extremely intricate and eye-catching.
The Victorian home is a true symbol of San Francisco and its rich architectural style.
Sleek and luxurious Streamline Moderne dwellings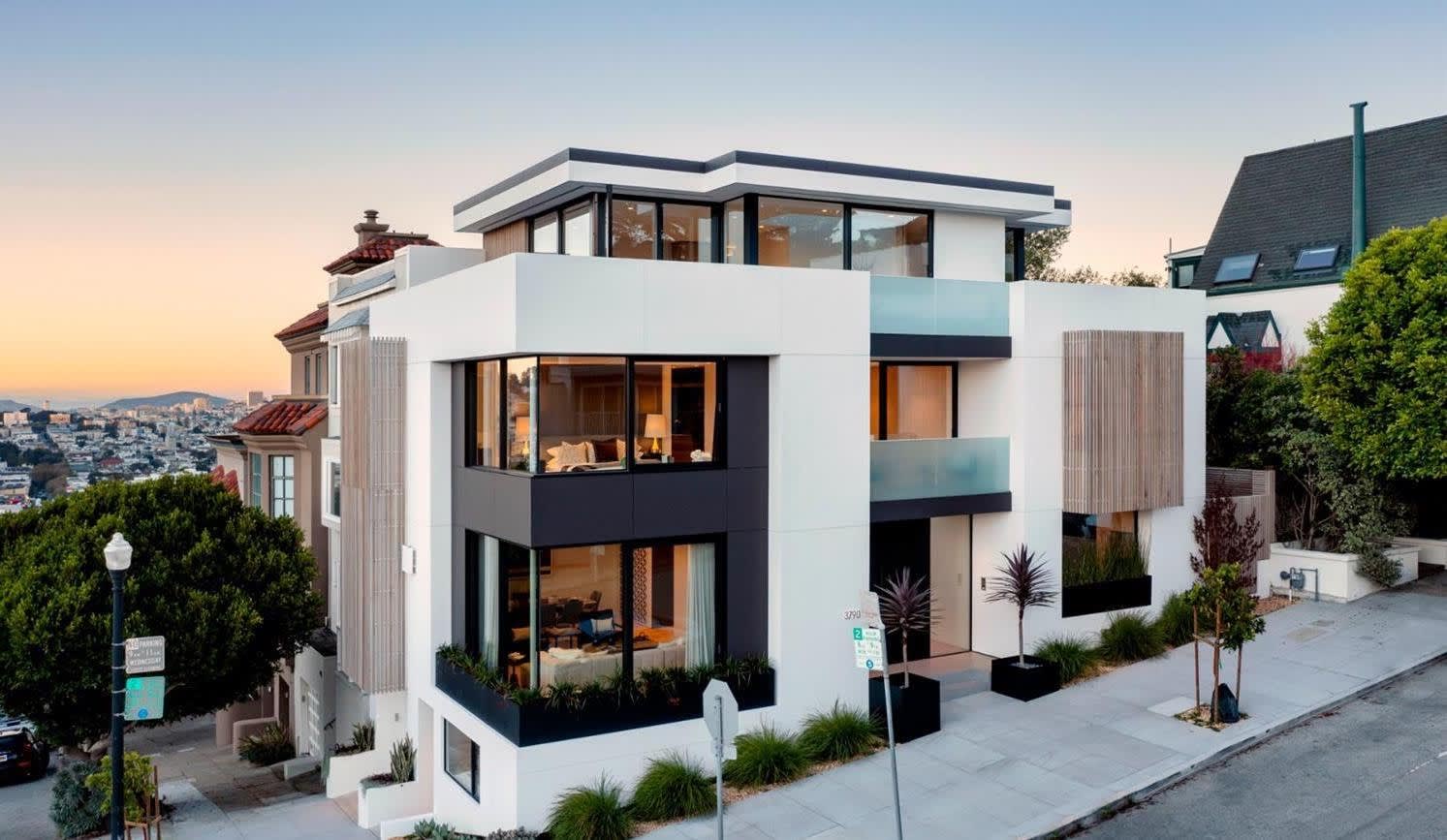 Credit: Matt Woebcke Real Estate
In the more newly developed areas of San Francisco, you will find Streamline Moderne dwellings. Considered a branch of Art Deco style, Streamline Moderne came about in the 1930s and was heavily sought-after during the Great Depression. Americans were wanting more industrial-looking properties, and this forward-thinking design gave them just that.
Streamline Moderne homes — as well as condos — are chic and lavish. These captivating abodes are inspired by aerodynamic vehicle and aircraft characteristics, such as round corners, horizontal details, lengthy silhouettes, and clean lines. Avant-garde living is also a major theme of these homes. The futuristic aesthetic of Streamline Moderne properties makes them stand out in the city of San Francisco.
The sleekest and most luxurious of homes in San Francisco are those that are considered Streamline Moderne.
Fanciful and magnificent Italianate homes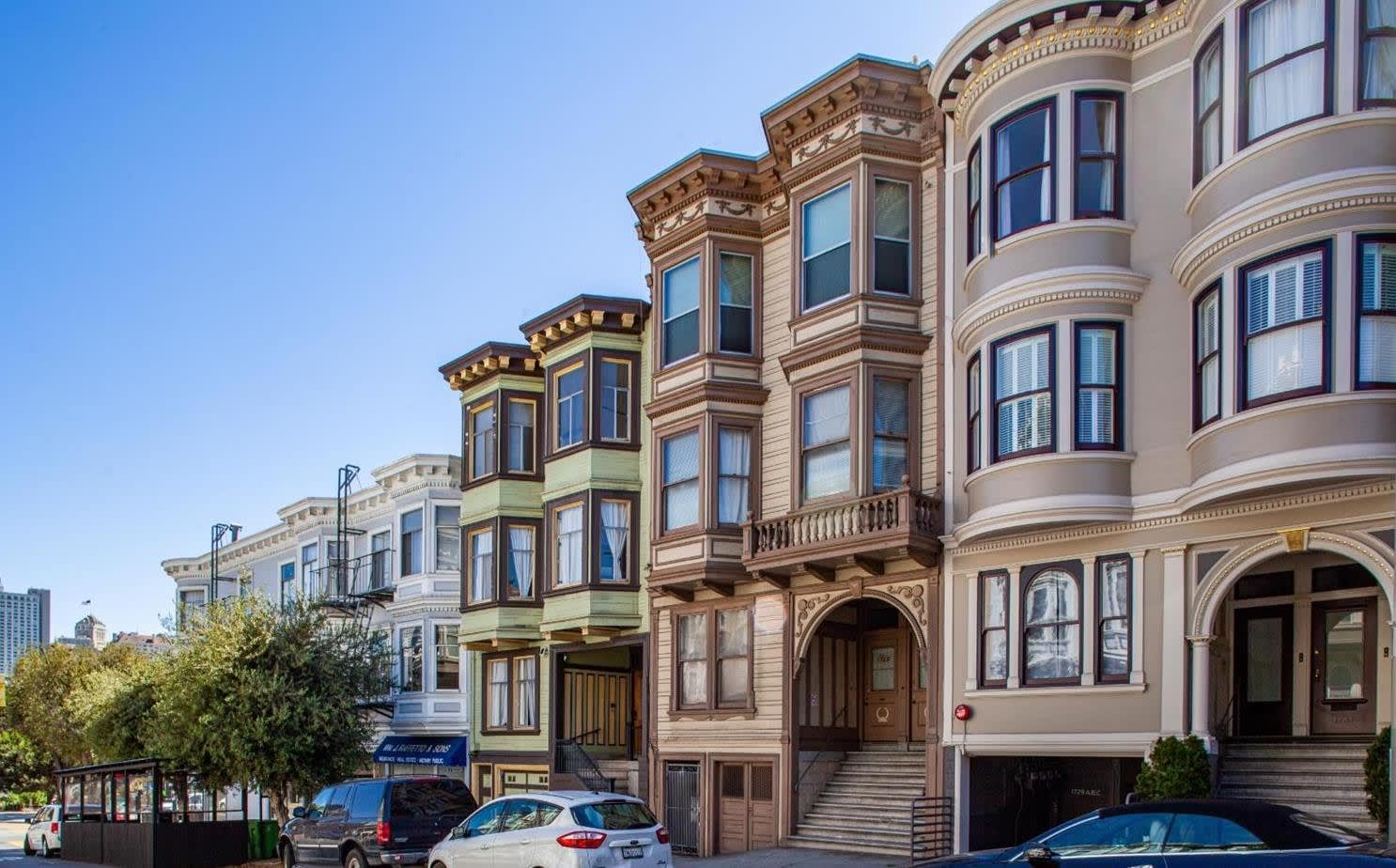 Credit: Matt Woebcke Real Estate
Italianate homes are another incredible San Francisco architectural style. These fanciful dwellings are reminiscent of Renaissance Italy villas, with the majority having been constructed from 1840 to 1885. Italianate abodes grew with the Picturesque movement, which focused on asymmetry, natural landscaping, and variety. As such, the majority of these homes have irregular floor plans, making their design more flexible for builders.
Distinguishing features of Italianate properties include thin, tall windows with heavy trim along with flat roofs that protrude from the sides of the home's outer walls. Some of these abodes play more homage to their Italian roots with magnificent towers that rise gracefully from the center of the home. Italianate homes are usually anywhere from two to four stories high as well, thereby accommodating a slightly larger family.
These pretty, whimsical Italianate homes will take you back in time to another era.
Charming Spanish-inspired Mission Revival abodes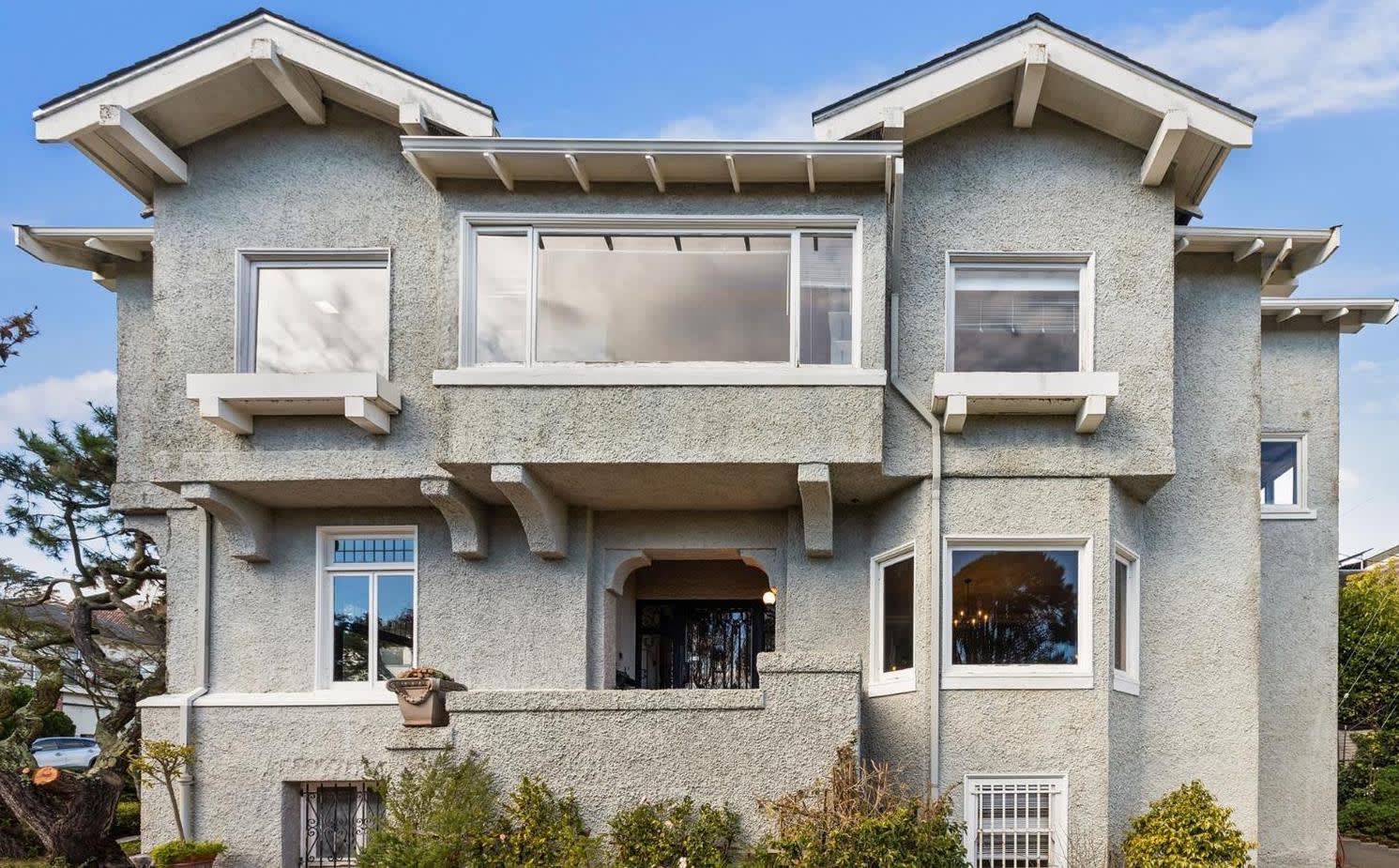 Credit: Matt Woebcke Real Estate
Throughout San Francisco are charming Mission Revival abodes. Influenced by the quintessential Spanish missions, these homes were created between 1890 and 1920. Mission Revival properties were a reaction to industrialization, as many people wanted to preserve history and a simpler time.
Mission Revival homes look like ornate adobes that have stucco faces. Other key elements include red tile roofing, white exterior paint, and arched entryways and windows. Mission Revival dwellings give off a southwestern feel with broadly covered walkways, iron decor, and gigantic square pillars. Many also have landscaping full of cacti or palm trees, adding to the strong character of the home.
Mission Revival abodes are hidden gems in the San Francisco real estate industry.
Simple but detailed stick-style homes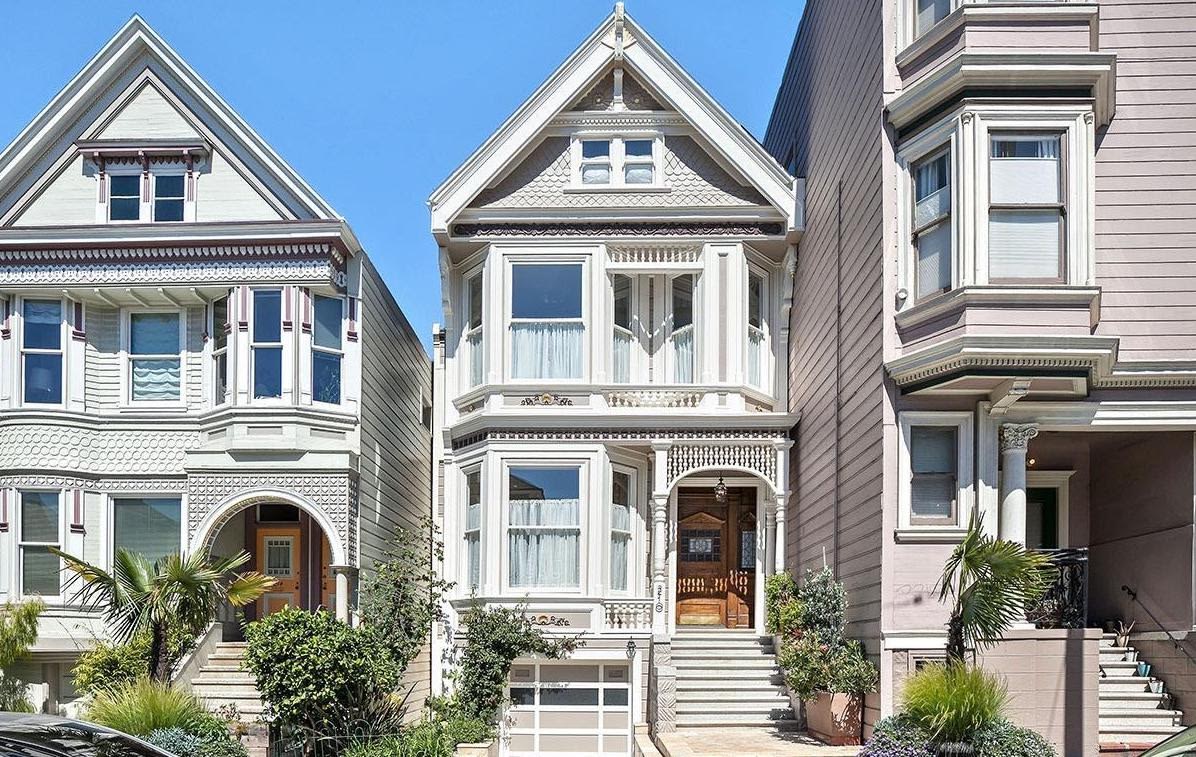 Credit: Matt Woebcke Real Estate
Stick-style homes are simple but detailed. An innovative design for its time, stick homes did not gain much popularity until the 19th century. Fast forward to today, and you will find the highest concentration of stick-style dwellings is in San Francisco. Their identifiable characteristic is the beams — or "sticks" — that stretch from the first to the second story of the house, making it look like the home is being propped up.
Easily spotted throughout San Francisco, stick properties have a relatively straightforward layout. However, the decorative detailing is exceptional with lovely shingles, gables, porches, and trusses. Stick-style abodes are slim and feature multiple levels, along with towering windows, pitched roofs, and vast columns.
You are bound to stumble upon a stick-style home in San Francisco,
San Francisco Real Estate
Make one of these glamorous architectural San Francisco properties your own by contacting real estate agent Matt Woebcke. As a San Francisco native with more than a decade of real estate experience, Matt has substantial knowledge of the Bay area and empowers his clients with his vast industry insights. Whether you're interested in Mission homes for sale, Castro real estate, or Potrero Hill condos, Matt Woebcke will be there to help you make the decision that is best for you.