San Francisco is full of countless street festivals and fairs throughout the year for residents to enjoy. The sense of community cultivated by these public events makes neighborhoods around the San Francisco area great locations to live with families, as a retiree looking for recreational opportunities, or a worker who likes to have fun on the weekends. To help you navigate the long list of events in this area, here are some of the best street festivals in San Francisco.
Union Street Festival
If you're searching for San Francisco real estate and you love music, then reserve the first weekend in June for the
Union Street Festival
. A neighborhood tradition since 1976, the event takes place on a five-block stretch of Union Street, in the Cow Hollow neighborhood, from Gough Street to Fillmore Street. It is run by the
Union Street Association
, which prioritizes the preservation of historic architecture, business diversity, and the beautification of Union Street in the heart of San Francisco. This family-oriented festival features local bands, over 100 art booths, children's activity stations, and a beer garden. The street closure brings neighbors together on one of the most beautiful streets in the city, and the support local businesses receive makes a genuine difference.
Castro Street Fair
The
Castro Street Fair
is definitely something to look forward to when searching for Castro houses for sale. Founded in 1974 by Harvey Milk, residents can find this fair where Market and Castro Street intersect. Like the Mission Fed Artwalk, this fair's profits are given to charitable causes. Those who can't make the fair in October can still donate through the organization's online store.
This fair has hundreds of talented people who sell their goods, such as local artists, craftspeople of all mediums and specialties, vendors, and organizations spreading awareness. Live entertainment on surrounding stages adds to the energy of this fair, as well as dance stages with scheduled performances.
Potrero Hill Festival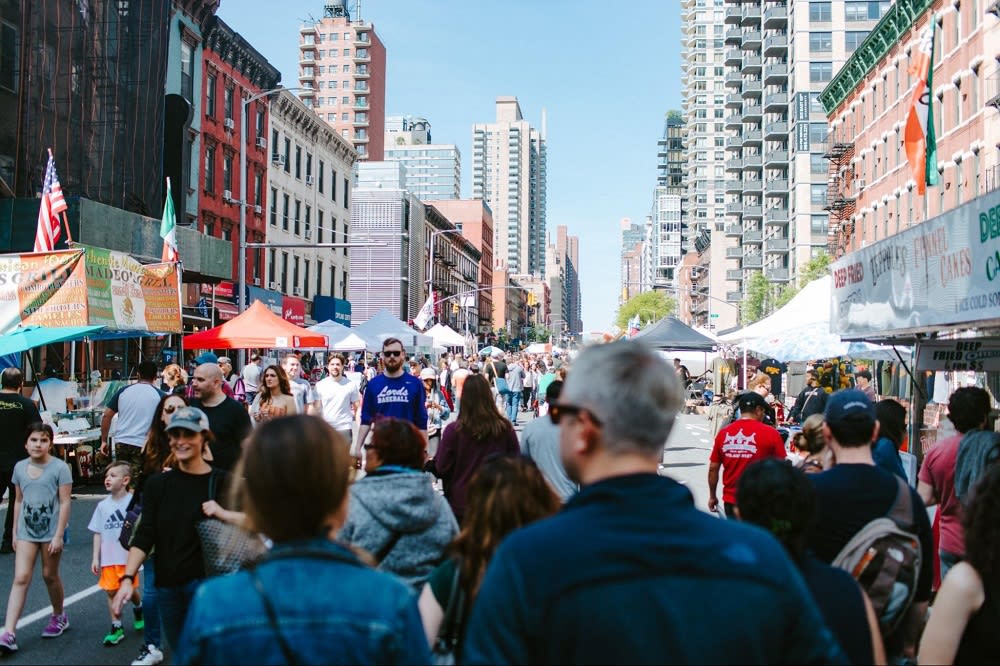 If you're searching for Potrero Hill Condos on a weekend in October, you may run into the
Potrero Hill Festival
. This festival supports the Potrero Hill Neighborhood House, a community center in use for over a century. Open to helping people of all ages, this center offers support to the surrounding community in the form of education, youth programs, and other services.
The Potrero Hill Festival is hard to miss, as it spans over four blocks. Residents can find this festival on 20th Street, or follow the sound of live music. This is a great event to attend for families, if you're interested in some tasty food vendors, or if you're looking for some outdoor charm and positive energy.
Carnaval San Francisco
Another great street fair to attend if you're searching for houses in Mission is
Carnaval
. Lasting two days in the spring, this street fair takes place in the Mission District of San Francisco. The main event of this street fair is the parade, which starts on 24th and Bryant Streets, then ends at Fifteenth Street. The festival itself is huge, spanning 17 blocks long, although the main action happens between 6th and 24th.
The parade celebrates the culture and traditions of the Caribbean and Latin America, and attendees viewing the spectacle can see how participants have colorfully fulfilled the year's theme. To spread the lively and Latin energy, people can walk through the blocks and hear DJs playing anything from cumbia to rancheras to reggae. There are also several live bands playing Latin and Caribbean music. If you don't feel like dancing to the beat, there are plenty of food and arts-and-crafts vendors to explore in the area.
San Francisco Cherry Blossom Festival
Originating in 1967, the
San Francisco Cherry Blossom Festival
takes place in Japantown, when these beautiful flowers bloom in April. This festival is held on two consecutive weekends, on the stretch of Post Street between Laguna and Fillmore. Despite it encompassing a relatively small space geographically, it attracts plenty of attention, as more than 200,000 people come to see this event. This makes it one of the largest festivals of its kind nationally.
Depending on the year, this festival includes a parade, although there are many other ways to appreciate the Japanese culture and tradition it showcases. Food vendors serve Japanese dishes like sushi and tempura, and attendees can enjoy traditional music, dance, and more. The Sanrio Kids Corner is a great place for families to enjoy crafts and games, and you won't want to miss the full schedule of events happening on the Peace Plaza Stage.
Haight Street Fair
The
Haight Street Fair
is located in the Haight-Ashbury District and lasts a full day in October. This festival celebrates its history mainly on the strip of Haight Street between Masonic and Stanyan. Started in 1979, 2022 marks the 43rd anniversary of this fair. As the district is known for its 60's counterculture era, as well as being a regular spot for Janis Joplin and the Grateful Dead, attendees can expect a return and celebration of that type of energy throughout all the fair's attractions.
Haight Street Fair's main event is its live music, which attendees can find all day at two separate stages. Catch a band at the stage off of Stanyan and Haight Street, or walk over to Masonic and Haight Street to listen to one of the six scheduled performers. There are also over 200 booths with several different wares, such as food, merchandise, art of all mediums and genres, and community outreach programs. This is a great way to get to know the local community, or get involved with issues that are important to you.
Ready to search for your San Francisco home?
The festivals in San Francisco are definitely a perk when searching for homes for sale in the area. When you're ready to live a little closer to these year-round events, contact local agent
Matt Woebcke
to guide you through the process!